Post by Steve on May 19, 2008 18:47:12 GMT -5
From: Maria Bamford!
Date: May 19, 2008 6:03 PM
Hello Friends!
I will be performing at the Punchline in Atlanta on May 20th and 21st at 8pm! Tickets are $20.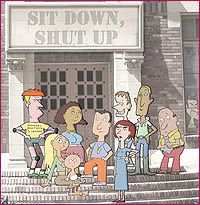 I've also added a bunch of other appearances, so
click here
Also, the SIT DOWN, SHUT UP Fox Pilot got picked up for 13 episodes and I'm still in it!!!! Still working with The Fonz! Over there on the right is an image from the show.
I am writing a book.
Yes. Or, more specifically, I am a channel through which a book is being written by a Higher Being that is taking all responsibility for it's format. H.B. could be (depending on your belief system) The Baby Jesus, Oprah, Quack! Media (its' publisher), Ayn Rand or trees. So, basically, a Native Ghost Pine I'm calling "Mrs. Raup" is writing a book. It is an autobiographical (with autobiographical bits solicited from other comedians with mental health issues) of mental illness and depression- an "He's Just Not That Into You" for the "I'm not that Into Me" set. So, real, funny stories about being sad and confused. It will be completed within 2 (two) years.
Also, Superdeluxe show is over and Superdeluxe itself is over! I hope they will put out a DVD but it is out of my control. Adult Swim now owns it. All we can do it wait and hope. And, then, maybe forget about it and join a soccer team. Soccer is fun.
That - and, It's All Happening! That's right! I made a Vision Board and the Future looks just like the inside of the magazine that I cut the pictures out of to create the Future with! It's got doggies and a bike and multi-cultural couples huggling and kids in their regional costumery! If only we could get a bunch of old Dwells and Interviews and Gaiam Living catalogs into Myanmar.
With a few issues of the Economist and a glue stick, they could topple the current regime with IKEA couches and sassy women from MORE, the magazine for women over 40!
Upcoming - (as influenced by Shaki Gawain's "Creative Visualization"- as influenced by the Republic of Haiti's "VOODOO")
I am creating - easily and effortlessly- a CD to be distributed by Comedy Central (under the umbrella of Viacom, under the umbrella of Wealth)!
I am installing - easily and effortlessly- an air conditioner in to 2 windows of my home!
I am joyfully traveling – easily and effortlessly-about the country via something called Airtran to see you in Atlanta, Minneapolis, Sacramento, Salt Lake City, San Diego, Duluth and Austin, Texas!
I hope all is well and I am seeing you- easily and effortlessly- in your town soon! (Philadelphia and Denver dates to follow!)
Love,
Maria Bamford (with Blossom's new Brother, Bert the Blind 6 year old Pug)